Biography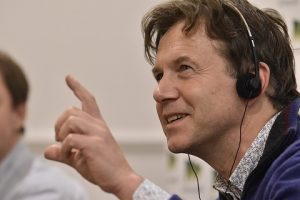 Dirk Holemans (° 1965) works as a parliamentary adviser and coordinator of Oikos, the think tank that pursues socio-ecological change and feeds the public debate with inspiring publications, instructive lectures and international conferences. Dirk is also editor-in-chief of the eponymous quarterly magazine.
Previously, Dirk worked as a researcher and teacher at various universities. Later, he became a member of the Flemish Parliament and for 20 years he was active as a local mandatary for Groen in Ghent. Within the European network, he is active as co-chairman of the Green European Foundation.
He lives in Ghent, together with his wife and two studying daughters. His op-ed pieces regularly appear in the media. In 2012 he published the book Mensen maken de stad. Bouwstenen voor een sociaalecologische toekomst ("People make the city. Building blocks for a socio-ecological future"). In 2016 he published Vrijheid & Zekerheid ("Freedom & Security. Towards a socio-ecological society"), a year later the essay Freedom & Security in a Complex World (translated into D / F / H). In 2018 he was the co-editor of Op grond van samenwerking. Woningen, voedsel en trage wegen als heruitgevonden commons ("On the basis of cooperation. Housing, food and slow roads like reinvented commons").
He graduated as a bio-engineer and later broadened his horizons with studies in philosophy (candidacy) and management (master in business economics)..