Biography
Dirk Holemans (°1965) is coordinator of Oikos, a think tank for social-ecological change that organizes seminars and conferences. Dirk is also editor in chief of the eponymous 3-monthly magazine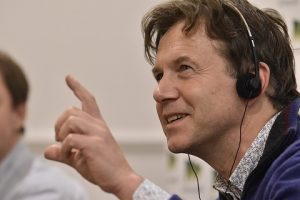 .
Dirk previously worked as a researcher and lecturer at various universities. Later he was a Flemish member of parliament and a municipal councilor for the Green party in Gent. Within the European network he is active as a director of the Green European Foundation.
He lives in Ghent, together with his wife and two studying daughters. His opinion pieces regularly appear in media such as De Standaard and Knack. In 2012 he compiled the book 'Mensen Maken de Stad. Bouwstenen voor een Sociaal-ecologische Toekomst' (EPO). In the autumn of 2016 he published 'Freedom & Security. Towards a socio-ecological society' (EPO), with which he is currently touring Flanders and our northern neighbors.
He graduated as a bio-engineer and later broadened his horizons with studies in philosophy (candidacy) and management (master in business economics).