Context
People all over the world are taking their future back into their hands. Together, they are taking initiatives in the fields of renewable energy, local food production, sharing tools, and so forth. This is the most hopeful movement of our time. Where the market and state fail, people are taking action. As free citizens, they are reinventing the collective, with open partnerships where personal development and social engagement go hand in hand. This observation seems to contradict what we experience every day. The system errors of our society model fill the newspapers: climate crisis, unstable banks, refugee flows. Accepted wisdom is that uncertainty is increasing. But both trends are happening, not by coincidence, at the same time.
Objectives
While examining the two interlinked concepts of Freedom and Security, this publication suggests that the answer needs to be the transformation into a socioecological society in the 21st century. It argues for the realisation of a societal project that strives for equal freedom for all people to flourish in security, within the boundaries of the planet, and proposes concrete steps towards it.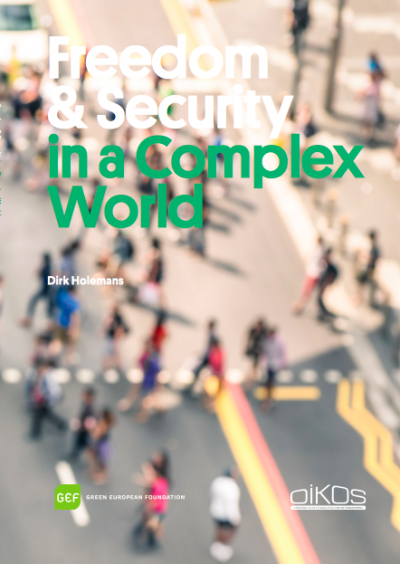 Freedom & Security in a Complex World. Dirk Holemans. This essay is an outcome of the Green European Foundation's ongoing transnational project which aims to explore alternative production models, foster the debate about Green Economy proposals and the changing conditions of labour in the 21st century.